OUR SERVICE
Closer to the action_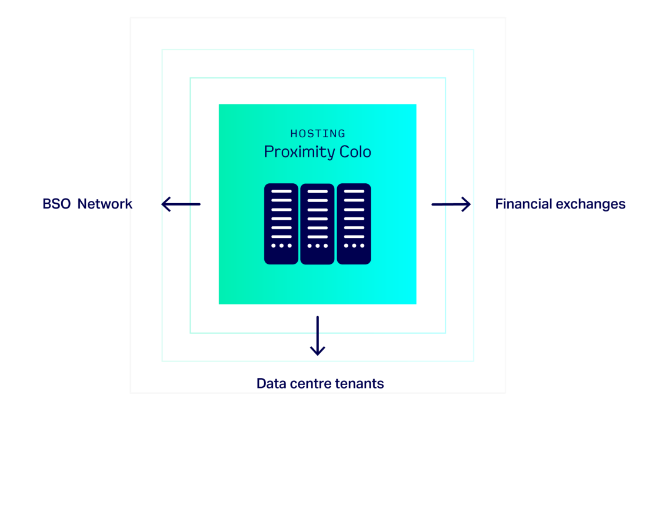 CME CyrusOne DC3 Aurora Chicago
Equinix FR2 Frankfurt (EUREX)
Fractional ¼ (quarter), ½ (half), and full racks with 1kW to 20kW power.
Redundant UPS power and dual feed
Ahead of the competition_
Lowest latency access
Suites are built next to the on-net financial exchange for the lowest available latency.
High-availability colocation
Fully diverse hosting models with dual-fed power and UPS backups deliver full redundancy.
Accessible
Smaller than full cabinet options reduce excess expenditure.
One provider
Our 24/7 NOC provides one point of contact, eliminating time spent on vendor management.
Secure
Your infrastructure is only accessible by the people that you approve.
Get in touch for better colocation with Proximity Colo_
FAQs
Why is Proximity Colocation suitable for the financial industry?
Proximity Colocation is particularly well-suited for the financial industry due to its low-latency advantages. In financial trading, even milliseconds matter. Proximity Colocation places your servers and trading infrastructure in close physical proximity to major financial exchanges, reducing the time it takes for data to travel. This results in faster trade execution, reduced slippage, and improved competitiveness, all of which are crucial in the high-speed world of financial markets.
Why should I use a colocation hosting?
Colocation hosting offers several compelling benefits, including:
Reliability: Colocation providers maintain robust, redundant infrastructure, minimising downtime and ensuring high availability for your IT equipment.
Security: Data centres are equipped with advanced security measures, safeguarding your equipment against physical threats.
Connectivity: Colocation facilities typically offer high-speed, redundant network connectivity, providing seamless access to the internet and other network services.
Cost-effectiveness: Colocation can be more cost-effective than maintaining a private data centre, as you share operational expenses with other tenants.
Scalability: Easily extend or reduce your IT infrastructure as your business needs change without the hassle of building or managing your own data centre.
Expert support: Many colocation providers offer technical support and remote hands services to assist with equipment maintenance and management.
Is Proximity Colocation a superior service?
Proximity Colocation is not inherently superior to other colocation services; its suitability depends on your specific needs. Proximity Colocation excels in reducing latency for financial trading operations, making it crucial for businesses in the financial industry where split-second decisions matter. However, if low latency is not a primary concern for your IT operations, a standard colocation service may be more cost-effective and still provide excellent reliability, security, and scalability.
It's essential to assess your specific requirements and objectives before determining whether Proximity Colocation or another colocation service is the right choice for your business.
You might be interested in_